The Cobb Chamber's Area Councils and the local business associations have selected their 2021 Citizens of the Year and Businesses/Members of the Year to honor those who have made our community a better place in which to live and work. The awards were announced late last year for the following communities:
Outstanding citizens

The Acworth Citizen of the Year is Tia Amlett, principal of Barber Middle School. Amlett is in tune to the needs, struggles, and challenges that her staff and school families face, and she finds ways to keep those individuals uplifted. During the challenges of the past two years, she has remained a strong and steadfast advocate for teachers, students, and parents.
Under Amlett's leadership, Barber Middle School was named a Title 1 Reward School, a distinction that is earned by those schools that are ranked in the top 5 percent of Title 1 Schools in the state. In addition, the school also was awarded STEM School Certification by the Cobb County School District.
Austell Citizen of the Year is Malcolm Lewis, pastor of Beacon of Light Ministries and owner of Cenacle Coffee Shop and Bestway Financial Services. After moving Beacon of Light Ministries to the area in 2008 and purchasing two buildings to open Cenacle Coffee Shop and Bestway Financial Services in 2015, Lewis has been instrumental in the revitalization efforts of downtown Austell. During the start of the pandemic, when many in the community were left hungry due to the shelter-in-place mandate, Lewis opened the Cenacle's doors and offered hot meals to anyone in need.
Passionate about education and entrepreneurism, Lewis is proposing to fund a private middle school in Austell. He was an Austell Business Association Board Member from 2016-2020 and has been a part of the Austell Community Collaborative since 2015. As a veteran, Lewis has helped celebrate and honor local veterans each year at the annual Veterans Day event held in Veterans Park. He has continuously contributed to the wellbeing of the Austell community through his servitude and giving spirit.
East Cobb Citizen of the Year is Bob Ott. Former East Cobb District 2 Commissioner, Ott has been an active member of the East Cobb community for more than 10 years. From the East Cobb Civic Association to the Cobb Planning Commission, Ott strives to make the citizens of Cobb feel as though they are connected to their government.
In the wake of the pandemic, Ott was vigilant in helping small businesses stay open, working alongside SelectCobb to propose that $50 million of the county's federal CARES Act funding would be dedicated to developing grants for small business owners. After stepping down from politics in late 2020, Ott has continued to stay active within East Cobb. He is a member of Mt. Bethel United Methodist Church and volunteer with Boy Scouts and Eagle Scouts of America.
Kennesaw Citizen of the Year is Jeff Drobney, city manager of Kennesaw, and a man of action that finds ways to make everything work to benefit those involved. Drobney has taken the City of Kennesaw to the next level in operations, staffing, technology, and economic growth. He has built an all-star team of professionals and created a succession plan to ensure the city is able to maintain exceptional professional services and continued strong economic growth.
Over the course of 15 years, he has served as past president of the Kennesaw Business Association, executive director of the Southern Museum, agency director for Recreation and Culture, and past board member for Cobb Travel and Tourism. Involved in several areas within the city, Drobney has dedicated much of his career to serve and help improve the quality of Kennesaw and the wellbeing of its citizens.
Mableton Citizen of the Year is Robin Meyer, chairwoman emeritus of the Mableton Improvement Coalition. Meyer is known as a crucial fixture within the Mableton community. She is a founding member of the Mableton Improvement Coalition and has served in numerous leadership roles, including chairwoman, president, secretary, and head of the Zoning Committee.
Meyer has worked for more than 20 years to help in the redevelopment of the Mableton community. She has assisted countless residents with issues ranging from homelessness, code enforcement, traffic, litter, and more. Additionally, she has written several grant applications resulting in the historic preservation of local parks, as well as development of new parks, and continues to work with Cobb County Government and developers on zoning applications for the redevelopment of Mableton.
Marietta Citizen of the Year is Thomas Sherrer, Jr., co-owner and pharmacist in charge of Poole's Pharmacy, which recently was profiled in Cobb In Focus. Sherrer is a trusted and respected member of the Marietta community, but it is during the pandemic that his compassion and dedication to Marietta and the school system became incredibly clear. As soon as the COVID-19 vaccine first became available, Sherrer called his customers, worked with their schedules, counseled hesitancy, and came up with a system so no vaccine would be wasted.
Through Poole's Pharmacy, Sherrer was ready and willing to ensure that all teachers and staff at Marietta City Schools (MCS) who were able and willing to get the vaccine were vaccinated. What began as an initial clinic for MCS staff would soon become an ongoing partnership of MCS vaccine events for staff, students, and members of the Marietta community. When children 12 and older were able to get the vaccine, he was right back at it — helping parents with the decision and getting back to the schools to help administer the dose. In a time where it is vital to keep our community safe and educated about their options, Sherrer has done everything he can to make sure his fellow citizens are informed and vaccinated.
Smyrna Citizen of the Year is Lt. Louis Defense of the City of Smyrna Police Department. Defense began his law enforcement career in November of 2000, and today serves as the face of the Smyrna Police Department in his active role as the city's public information officer/community liaison. He has served time in uniform patrol and most notably as the supervisor of the Community Relations Unit with Smyrna Police.
At the beginning of the pandemic, Defense found an unmet need, realizing that our most at-risk populations could not be in public and thus could not pick up their basic life necessities such as food and medication. He began delivering groceries and medication to Smyrna's at-risk populations and, due to the program's popularity, expanded his reach into areas of unincorporated Cobb that bordered Smyrna.
In the wake of tragic events across the country, Defense found himself again thinking outside of the box in finding ways to regain the public's trust in law enforcement. He coordinated and instructed Smyrna PD's inaugural Youth Police Academy where kids attended a one-week "police academy" where they learned about law enforcement and how to succeed in life.
West Cobb Citizen of the Year is Christal McNair, owner of Studio Bungee fitness facilities (read more about McNair on page 29). She is the first to say yes to difficult tasks — whether it's chairing a new committee with a non-profit, helping to navigate challenging waters during a pandemic, or just pushing hard to get the word out about a cause she believes in.
An active member of the Cobb Chamber, Cobb Executive Women, Marietta Business Association, West Cobb Business Association, and Kiwanis of Marietta, McNair shows her passion for the community through her involvement in each organization and acts of service to help her neighbors. In the wake of the pandemic, she helped many small businesses translate PPP and manage their financial plans. Her servitude, hard work ethic, and giving spirit make her a valuable contributor to the neighborhoods and communities of West Cobb.
Business association awards

Acworth Business Association's 2021 Business of the Year is EcoTech Services, which provides carpet cleaning, tile cleaning and upholstery cleaning services to the communities of Northwest Atlanta. The company has a long history of giving back to the community, including working with organizations such as Children's Healthcare of Atlanta and Bert's Big Adventure.
Acworth Business Association's 2021 Person of the Year is Mike Schroeder, owner of 1885 Grill Acworth. 1885 Grill is a Southern coastal restaurant that provides diners with a chance to escape their busy day and enjoy a meal-length vacation of the senses. You won't find a more spacious or inviting restaurant setting in all of Acworth.
Kennesaw Business Association's Business of the Year is Copeland's (Quinton Austin, Managing Partner). The management and staff at Copeland's are known throughout the community because of their consistent and enthusiastic involvement within the business community and in Cobb in general. The KBA says Copeland's is a wonderful place to take family and friends. They also provide food for many KBA lunches, and it's always delicious!
Kennesaw Business Association's Member of the Year is Jenni Brown, Partner, Brown & Dutton Law Firm in Marietta. Brown is a natural leader and her clients describe her as compassionate, confident, and aggressive when necessary. She is known for her ability to openly communicate with her clients and explain a complex situation in a way that all clients understand what to expect throughout the litigation process. Brown is an active member of the Cobb Bar Association and State Bar of Georgia. She spends much of her free time volunteering in the community and with her church.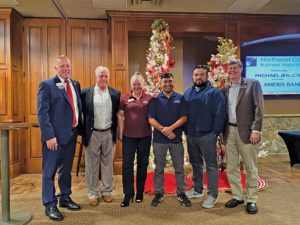 Northeast Cobb Business Association's 2021 Small Business of the Year is ARS Mitigations Inc. Founded in 1988, this Cobb County business is specially trained and certified to respond in the event of a disaster — fire or water — and they understand that time is precious and that your family needs a reliable restoration service. As owner Rick Sands tell us in this issue of Cobb In Focus (beginning on page 26), "Our mission is to provide service with guidance, support, and empathy at a time when our customers have experienced a loss to their home or business."
Regarding the award, Sands said: "I didn't see it coming. I was honored and humbled, and very surprised. It never occurred to me, but it helped show that we are doing something right."
Marietta Business Association's Members of the Year are Justin Arndt (Justin Arndt Media) and Bart Nunley (Elley). Justin Arndt Media provides photo and video services for brands and businesses in the Metro Atlanta area. Arndt is a former public information officer with the Powder Springs Police Department where he assisted with the Department with managing social media platforms (Facebook, Titter, and Instagram) and helped facilitate all community outreach programs, from neighborhood watch, business watch, youth programs, and special community events.
Nunley is co-founder of Elley, which started out as a VoIP phone company, but quickly evolved into a full-service IT Managed Service Provider. The company's individualized, service-oriented approach has won over clients around the nation. Elley's commitment to community includes assistance and partnerships with local churches, civic organizations, veterans and first responders groups, as well as historic preservation and land trust organizations.
Marietta Business Association's Business of the Year is Associated Credit Union (ACU), which for 90 years has been committed to providing exceptional service and a wide variety of competitive products and services to help its members achieve their financial goals. ACU operates under a "people first" mindset, which means the needs of members and the needs of the community are always top of mind. The credit union's mission is to offer members financial products that fulfill their needs, service that exceeds their expectations, and relationships that inspire their trust.
Its 501(c)3 Foundation was established in 2009 and has since donated more than $850,000 in funds and contributions to local charities, including Neighborhood Cooperative Ministries; Quinn House; Children's Healthcare of Atlanta; Wilderness Works; Child Enrichment, Inc.; The Leukemia and Lymphoma Society; and Susan G. Komen.
West Cobb Business Association's Member of the Year is Samantha Glass of All Print Marketing. Glass has been a member of WCBA since 2011 and during that time served in many volunteer roles with the association, including marketing director and government affairs director. Since her term as president in 2018, she has remained active and volunteered on the leadership team.
In 2021, Glass founded the 501(c)3 non-profit organization, the Jess Rousey Honoring Heroes Foundation, Inc., to support and give back to our first responder heroes. She organizes the annual WCBA Public Safety Appreciation Gala, which always is a hit with WCBA members and first responders alike.
West Cobb Business Association's Business of the Year is Mayes Ward-Dobbins in Powder Springs. This funeral home and crematory has been serving Cobb County since the 1920s. In 1983, Dobbins Funeral Home and Mayes Ward Funeral Home merged to form Mayes Ward-Dobbins. Owner Terry Pendley has served as a licensed professional in the funeral profession for more than 43 years. Terry serves his community by being a member of the Marietta Rotary, Springville Masonic Lodge, Marietta Lions Club, Wellstar Foundation Board, Wellstar Hospice Board, and Chairman of the McEachern Trust Board for McEachern High School. Terry is past president of Marietta Country Club.
They have a long history with years of experience caring for families, from all walks of life. Mayes Ward-Dobbins also was selected as the "Best of Cobb" by the MDJ for both 2020 and 2021.