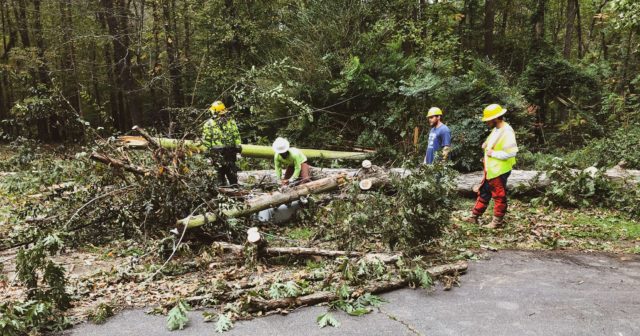 When Tropical Storm Zeta pushed through metro Atlanta on Oct. 29, 2020, the high winds and heavy rain caused widespread power outages. In fact, Cobb DOT reported that more than 430 trees were downed during the storm.
According to Cobb EMC, the storm caused the worst damage in cooperative's 82-year history, with more than 120,000 members experiencing outages. Crews were dispatched before first light during the storm to begin assessing damage and to restore service to members.
"Our entire company came together to manage the aftermath of this massive storm," said Peter Heintzelman, president and CEO of Cobb EMC. "I am thankful for our linemen that do inherently dangerous work every day and our dedicated employees behind the scenes that faced the biggest challenge in our history with professionalism and teamwork."
When compared to the previous most destructive storm in Cobb EMC's history, Winter Storm Benji in 2017, Zeta's damage to Cobb EMC's electric system was far superior. Like Benji, Zeta damaged transmission lines and substations that carry electricity to the cooperative's members. Some roads were impassable due to downed trees, making it difficult to access outages. A total of 137 damaged poles, 2 ½ times more damaged poles than Benji, contributed to extended outages for some areas as crews worked to restore power quickly and safely.
"Every department worked tirelessly on restoring power to our members and that is what makes this cooperative so special," said Tripper Sharp, chairman of the Cobb EMC Board of Directors. "From Member Care Representatives fielding calls to the Marketing Department answering messages on social media, the response to this storm took everyone in the company and they all executed with poise and precision."
Cobb EMC began preparations for Tropical Storm Zeta days before and coordinated efforts with GEMC, the statewide organization, to solicit assistance from other co-ops inside and outside the state. Due to the widespread damage of the storm across the service area, the restoration process was a coordinated effort with crews from other cooperatives and municipalities in Georgia, Tennessee, and Alabama. Flint Energies, Colquitt EMC, Altamaha EMC, Satilla EMC, Canoochee EMC, Okefenoke EMC, and Grady EMC from Georgia, along with Middle Tennessee EMC all assisted in restoring service.
"Our lineman, engineers, and apparatus crews did an amazing job restoring power to our members," said Kevan Espy, senior vice president of Electric Operations at Cobb EMC. "They showed perseverance during a severely damaging storm. The restoration effort required the entire organization to engage and they were all exceptional."