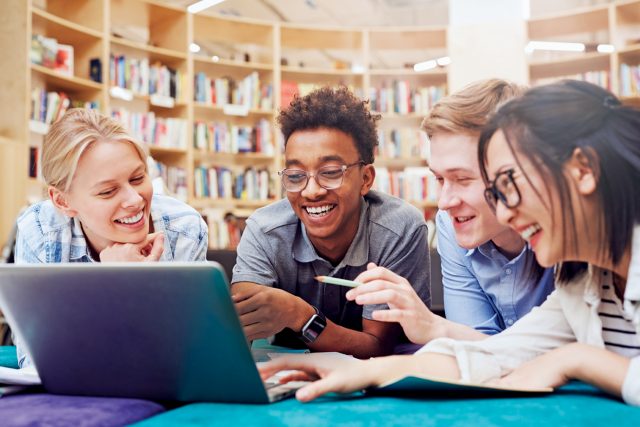 The history of the Cobb County Public Library System and how it continues to thrive
By Lindsay Field Penticuff
Believe it or not, libraries in Cobb County date back to the late 1800s. The earliest record is 1865 of the Young Man's Debating and Library Association organized in Marietta, which became the Young Men's Literary Association in 1874, says Helen Poyer, director of the Cobb County Public Library System. Other partnerships and organizations were formed through 1957, when the Cobb County-Marietta Public Library Board organized, assuming responsibility for the library program in Cobb and incorporating the library established by the Board of Education.
"The first meeting of Cobb County Library Board was held Thursday, July 25, 1957, at the Trio Restaurant in Marietta," shares Poyer.
Renamed the Cobb County Public Library System in 1969, there are now 15 locations throughout the county, and Poyer's team welcomes more than 1.8 million visitors a year, with in-person program attendance at about 175,000 annually. "Cobb library staff and supporters are delivering programs and resources where people are," Poyer adds. "Cobb libraries are destinations and spaces we share with neighbors."
This includes outdoor amphitheaters at the Sewell Mill Library and Cultural Center in Marietta and the North Cobb Regional Library in Kennesaw; the plaza at the Charles D. Switzer Library in Marietta; and even parking lots and other library spaces are the stages for community fairs, arts programs, and much more. "Cobb librarians and library workers strive for growing community connections at the libraries and beyond," says Poyer.
The proof is in the programming

Cobb libraries offer an abundance of programs for the community. For example, there are story times for babies, toddlers, tweens, teens and adults in which patrons can discuss books and visit with authors — virtually and in person. "Cobb library's Summer Reading Program (SRP) is always a highlight of the year for all ages, too," Poyer says. "In fact, we hosted hundreds of in-person SRP events each of the past years before the COVID-19 pandemic."
For 2021, library staff is continuing to develop the SRP under the national theme of "Tales and Tales," in which they will focus on animals and stories.
Innovative programming also includes Storywalks for all ages. This features signs along paths at the libraries and across the community to help promote reading, health and wellness, and community engagement. "We also have workforce development programs like Girls Who Code, and other programs designed to expand the science, technology, engineering, and mathematics (STEM) workforce pipeline across Cobb, especially for our underrepresented groups," says Poyer.
And seniors in Cobb also are benefiting from programs. Poyer says they offer the Senior Wellness Series of East Cobb Library, which includes virtual and in-person classes that focus on movement, dancing, and more. One of the more unique programs offered through the Cobb system is the Library PASS Program. It provides library accounts for Cobb County and Marietta City students, and opens year-round access to the robust digital resources offered by the library on education, business, science, history, and a range of other topics.
"The Cobb Library Bookmobile also brings library programs and books to communities with limited access to libraries throughout Cobb," says Poyer.
Reaching library patrons during a pandemic
Like businesses, school systems, faith communities and others across the United States, Cobb's library locations closed to the public last March amid the COVID-19 pandemic and state and local shelter-in-place orders. "However, Cobb library operations never fully closed, with digital services remaining operational throughout the pandemic to give library patrons access to online resources and online reference questions services," says Poyer.
In the weeks ahead of the March 2020 closures, library officials worked with county colleagues in developing plans for health and safety protocols. This allowed them to put in place curbside services for grab-and-go and pick-up services for library customers to check out books and other items at Cobb libraries, even as the library facilities were closed to the public. "Following a series of phases of library operations, the library staff is carefully implementing library hours and operations to move closer to the regular, normal, pre-pandemic status," adds Poyer.
At the time of print, Cobb libraries are back open on Monday through Saturday at nine library locations, with plans from library administrators to open the remaining locations in the coming weeks. Switzer Library, which is undergoing major renovations, is currently scheduled to reopen mid-summer. Construction, which began in 2019 and is funded by a Georgia Public Library Capital Outlay Grant and Special Purpose Local Option Sales Tax (SPLOST), includes a complete reconfiguration of the interior space, an outdoor plaza, and new roof. It will create adult and teen makerspaces, a dedicated teen space, and a larger Georgia Room for genealogy and local history.
Supporting Cobb libraries
Established in 2003 by civic-minded citizens aspiring to grow the Cobb Public Library System and led by the Cobb Library Foundation Board, the Cobb County Public Library Foundation Inc. is focused on fundraising, volunteering, and active participating to promote education, literacy, growth and activity, and help improve the quality of life throughout Cobb. "The Foundation 'fills in the gaps' where funds are not available," says Sandra Morris, executive assistant to the Cobb Library Foundation. "In addition to providing funds for programs like Girls Who Code, Girls in Engineering, Math and Science (GEMS), PrimeTime and the Summer Reading Program, the Foundation has helped fund special areas like the patio and creative studio at the North Cobb Regional Library, provided materials and funded the lift and wrap for the bookmobile."
One of the largest fundraisers for the Foundation is an annual gala, in addition to hosting Booked for Lunch and Booked for the Evening events. The next gala is scheduled for 2022. Through naming rights and donations from other organizations, the Foundation also has provided the library system with funds to renovate and furnish the Vinings Children's Area. "Our libraries need the support of our community," Morris says. "COVID-19 tested us in unimaginable ways, and the outcome is clear: Our libraries are essential. Our libraries have provided hotspots, electronic materials, online classes and story times, and a variety of other resources in this time of need."
However, it goes without saying that the system's needs go beyond that of online resources. "Our physical libraries allow people access to classes, computers, teen centers, green screens, recording studios, creative spaces, and conference/community rooms for business and other meetings," Morris adds. "They also allow people of every age to congregate and socialize. Our libraries continue to evolve with the needs of our community. Libraries today are safe, resource-rich community centers with limitless opportunities."
Poyer couldn't agree more. "The library is a gateway for a high quality of life by providing resources … promoting connections and well-being throughout the county," she concludes.
---
Cobb Library Foundation Board of Directors
The board is made up of 11 community leaders who share their time, talent, and treasure to ensure that Cobb libraries have the financial resources to provide the very best materials and services.
Dr. Gilles LaMarche, President, Life University
Chuck Papandrea, Vice President and Treasurer, Price Waterhouse Cooper
Becca Duval McIntyre, Secretary, LGE Community Credit Union
Abby Shiffman, President, Cobb Library Board of Trustees
Jim Ney, Board Member, Holt Ney Zatcoff & Wasserman, LLP
Carol Ney, Board Member, Volunteer
Stephen Hughes, Board Member
Joe Murphy, Attorney, Miles Mediation
Connie Taylor, Cobb County Superior Court Clerk
Mark Justice, Director of Education & Community Relations, Cobb EMC
Nona Lacy, Board Member, Volunteer
---
Make a connection
Website: cobbcounty.org/library
Phone: 770.528.2320
Email: contactus@cobbcat.org
Hours of operation vary at each library location.
---
Get social with Book'n It
Building Conversation and Community Through the Love of Books
After spending 20-plus years working in real estate, Kim Burgett wanted to pursue a career and take advantage of an opportunity that allowed her to follow her true passions. With a degree in English, she took a stab at teaching for a few years, then set her sights on becoming a media specialist — known to many of us as a school librarian. Burgett earned her master's in media and instructional technology at the University of West Georgia, then took a job as a paraprofessional in a Cobb County school library.
"After almost four years, I let my school know that I would not be returning the following year," Burgett says. "Within a week or two of that decision, I had an epiphany in the middle of the night: Food trucks are all the rage, why not a book truck?"
Burgett thought it might be a great idea to have a low-cost mobile bookstore with a flexible schedule versus a physical building where she sells books. Calling her mobile bookstore "Book'n It," Burgett participated in food truck nights and was welcomed regularly to the Marietta Artisan Market on Saturdays.
"The rest is history!" she shares joyfully. "Since then, I've popped up at breweries, coffee shops, and festivals. I even upgraded from tables and a tent in my first year to a mobile trailer that is not only functional but eye-catching."
As a result, she often has repeat customers and a strong client base that looks for her on the weekends. "We offer a small selection of current, new books — think New York Times bestsellers — and a rolling cart of fairly current and popular used books," says Burgett.
And sales have gone well, drawing in well over 1,000 customers in the first two years of business. She even found success during the COVID-19 pandemic. "The community has been great," Burgett adds. "With the 'shop local' movement, I now have many customers who contact me directly to place orders. And I find that when I approach a business to 'pop up,' the response from the proprietor is usually that they love books, and they'd love to have me."
Online: bookn-it.com
Facebook: @Book'n It
Instagram: @bookn_it
---
2021 GOAL Awards Virtual Presentation
The Governor's Occupational Award of Leadership (GOAL Award) was presented on April 15 and recognizes outstanding technical college students across Georgia, equipping them to be advocates for technical education throughout the state. Every April the Cobb Chamber honors Chattahoochee Technical College's finalists and winner, who then go on to represent the college at the State GOAL Competition. This year, the event was held virtually. Congratulations to the 2021 GOAL winner, Dustin Ferguson, a student in the Chattahoochee Tech Associate of Science in Nursing program.