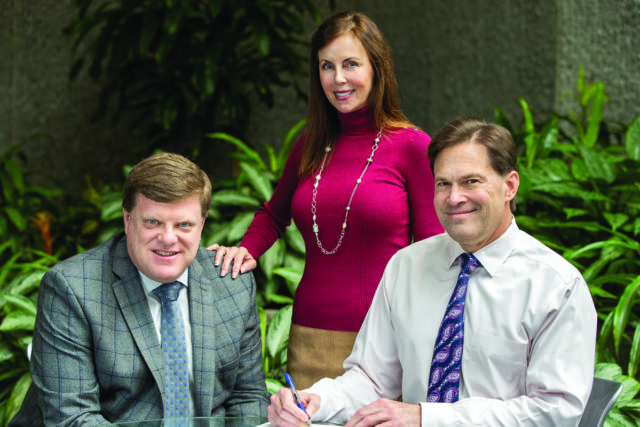 SafePath's mission aligns well with this year's Gold Sponsor at the annual gala.
By Lindsay Field Penticuff
With annual medical costs increasing to nearly $6 billion nationally to care for children who are victims of neglect and abuse, it's even more pertinent than ever for us to come together and learn how we can better America's youth.
"Children are forever," says Jinger Robins, CEO of SafePath Children's Advocacy Center in Cobb County, "and what we do today to ensure they have healthy and safe childhoods will determine what our world will look like in the future."
Since 2010, the number of children SafePath serves has increased by 69 percent. And recent data from the center's 2018 report states that between Oct. 1, 2017, and Sept. 30, 2018, they served a total of 1,524 clients — 924 children and 600 caregivers. So as the community looks to commemorate National Child Abuse Prevention Month in April, Robins and her team at SafePath are excited to be on the forefront of the fight, hosting year-round trainings, prevention seminars, and more. "Anything SafePath can do to educate our community on the prevention of child abuse is a direct investment in a healthy community," Robins said.
The annual awareness month also is why the advocacy center celebrates its annual Hearing Children's Voices Gala each spring. It has been an excellent way to not only educate Cobb residents about the horrific effects of child abuse in the community, but to help raise money to assist in providing the vital intervention services SafePath provides. The theme for the 19th annual gala is "Children are Forever: Mission Possible 20/20," which Robins believes truly captures the heart of who and what SafePath is committed to being and accomplishing.
"We know our mission; we can see clearly with 20/20 vision what needs to be done to protect children; and we are dedicated to achieving our goals!" she said.
Held on May 9 at the Cobb Galleria Centre this year, the event will once again include a night of fellowship with supporters in the community, music, dancing, a silent auction and raffle, as well as a very special guest speaker, who will be named closer to the event date. This year's chairs for the gala are Melissa and Brett Cannon, MD, MBA, FACEP, and Susana and Bryant King. "These two couples are wonderful families who live in Cobb County and are actively involved in our community," Robins said. "I could not have handpicked any better chairs."
The experience in helping plan this year's gala has been especially wonderful for Dr. Cannon and Melissa. "There are so many deserving causes to support, but it's hard to think of a better one than SafePath and helping to protect and care for abused children in Cobb County," Dr. Cannon said. "It's a great event … and I promise guests will leave knowing they've helped children and made our community a little better."
Cannon added that Melissa also has a background in catering and event planning, so supporting the gala has been familiar turf for the couple. He's especially excited to chair this year's gala with the Kings, who are also their neighbors. "They joined us last year for the gala and were so moved that they volunteered on the spot to help us with this year's event, and Susana has joined the SafePath Board of Directors with me," said Cannon, who joined the board several years ago at the recommendation of his friend and colleague Avril Beckford, MD, chief pediatric officer for WellStar Health System.
"She was kind enough to recommend me as a board member," he recalled. "Touring their facility, and hearing of the work being done makes it absolutely impossible to not want to be a part of such an amazing place."
WellStar, which treats almost all of the children served at SafePath, has been a longtime partner of the advocacy center. Dr. Cannon also is associated with WellStar in his work as divisional president of ApolloMD, where he brings his expertise in emergency department flow and efficiency, health care economics, and health system logistics, overseeing emergency medicine at 10 hospitals. He joined the team at ApolloMD in 2000.
ApolloMD, a multi-specialty, value-based physician services solution for emergency medicine, anesthesia, hospital medicine and radiology, was started in the early 1980s in what is now WellStar Cobb Hospital in Austell. They are now in 12 states and see more than 3.2 million patient visits each year in more than 100 hospitals.
"The roots of ApolloMD started in this community nearly 30 years ago with our partnership with WellStar," Cannon said. "Part of our partnership is to maintain focus on enriching the lives of the individuals in this community, especially children."
ApolloMD is dedicated to providing exceptional patient care, and their work in the communities they serve aligns well with SafePath's mission to improve the lives of children who have been abused. "Supporting such deserving local organizations like SafePath is important for ApolloMD as a means to give back in ways separate from direct patient care," says Cannon.
This partnership with WellStar and dedication on behalf of ApolloMD to the community also is why the company has committed to be a presenting sponsor at this year's Hearing Children's Voice Gala. "Like most everyone, physicians feel a calling to help people. We're fortunate in that we get to do it most every day on the job," Cannon says. "All of us who have practiced [medicine] any amount of time have taken care of children who have been abused, and every case is absolutely heartbreaking."
However, he adds that there is a difference between helping someone in a clinical setting and supporting a great cause like SafePath. "ApolloMD has a long history of being a partner in the communities that we serve, and supporting SafePath is especially exciting since Cobb County is our hometown," Cannon said. "This is our third year supporting the gala, and we're very excited to be the presenting sponsor this year."
Robins says ApolloMD's delivery of services and vision are aligned with the manner in which SafePath serves the community. "Keywords cross over both organizations as we strive to be the best at what we do: streamlining, aligning customer satisfaction, highest quality of care, trust and partnerships when delivering services," she says.
And with health care costs for abused survivors in the billions, the partnership between ApolloMD and SafePath is a win-win for everyone. "Mission Possible 20/20 is not a dream, but a reality when we all work together," concludes Robins.
———–
2020 Hearing Children's Voices Gala
Theme: Children are Forever: Mission Possible 20/20
Chairs: Melissa and Brett Cannon,
Susana and Bryant King
Date: Saturday, May 9
Where: Cobb Galleria Centre
More info: (770) 514-6554
Annestuart.safepath@cobbcounty.org
Sponsorship levels
 Presenting, $25,000
 Diamond, $15,000
 Platinum, $10,000
 Gold, $5,000
 Silver, $2,500
 Table Host, $1,500
Did you know?
 The annual estimated cost of child abuse and neglect in the U.S. is $5.9 billion.
 Every 10 seconds a report of child abuse is made.
 Neglect is the most prevalent form of abuse.
 Child abuse occurs at all socioeconomic levels, across ethnic and cultural lines, and within all religions and levels of education.
U.S. Department of Health and Human Services