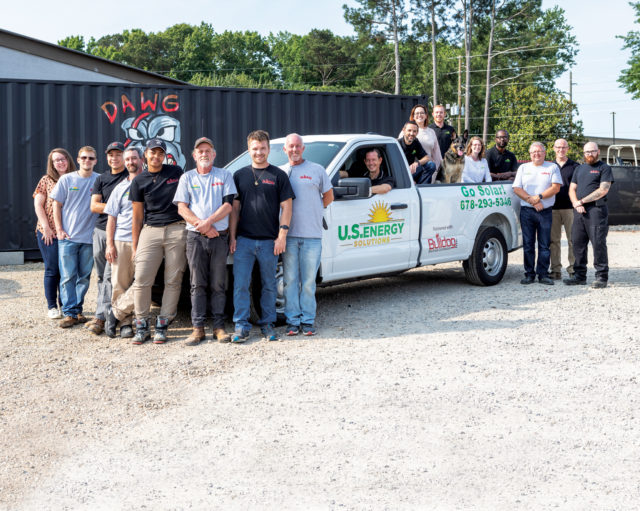 U.S. Energy Solutions of GA helps to provide complete freedom as clients navigate through the solar landscape. 
By Jennifer Morrell
When Kyle Crump and his wife, Alisha, opened an electrical business, Bulldog Electrical Contractors, Inc., it was simply for the purpose of making a living. Both lifetime Cobb County residents, Kyle has worked hard to make a name for himself, while Alisha ran the operations. Success was realized right away, as the company grew every year — mainly due to the trusty method of word-of-mouth.
Being in the electrical/construction/utility industry, over the years Kyle and Alisha heard so much buzz about "solar" and what was happening as large corporations falsely represented what solar power could do for their customers. Kyle took an instant interest in learning about solar technology, not only to educate himself, but to educate his clients. He wanted to bring a local, reputable solar company to the Cobb County area. Thus, U.S. Energy Solutions of GA was formed as a sister company to Bulldog Electrical Contractors, and it has been an intense, but incredibly rewarding, adventure.
"Our mission is to offer sustainable energy to our customers by a local, family-owned company that will stand by their work," Alisha says. "It's simple, really! The choice of energy supplier has a major impact on procuring energy for businesses at the most favorable terms. Since energy suppliers and utilities are not all the same, our energy management services are designed to help clients navigate through the entire energy landscape."
A legitimate question may be whether homeowners are open to the use of sustainable energy. Alisha says the costs of power from the power companies are rising every year. It usually takes about eight to 10 years, on average, to break even on a business's system. No one really knows what the cost of power will be then, but you have a paid-for system producing power. It is quite interesting and can save the customer an ample amount of money, she says, especially if that customer is staying in his or her home long-term.
Is it attainable?
An ongoing narrative is that people living in the West may be losing power more so than the rest of the country. Alisha says the selling points for "going solar" are clear. "Currently, there is a federal tax rebate that helps pay for the system, instantly saving money on their power bills," she says "Systems with batteries can add security for power outages. This also reduces air pollution and is low in maintenance and easy to maintain. We do monitor; however, we also offer a maintenance program if a homeowner feels better about that!"
Regarding addressing potential clients about the perception that solar energy is expensive — both to set up and to implement — Alisha asserts that there is a significant investment. "However, it is an initial investment that you will see back," she says. "As a matter of fact, we have some financing programs and, in a lot of cases, the loan payment with no money down is no different than if the customer were paying the power company. The savings pays the loan, while making them more self-sufficient. Consider the difference between renting and buying a home."
Teamwork = Dreamwork
U.S. Energy Solutions of GA has a strong relationship with Cobb EMC that results in a win-win situation for both companies. Kyle says that Cobb EMC is a fantastic partner, and collaboration is seamless. "They offer net 'metering,' which credits your account for unused power you produce," he says. "They really make it easy and as solar installers, once we are done with our portion, and they never make us jump through hoops to get our clients connected. We are proud to be one of their solar preferred contractors."
The company mostly works with homeowners and caters to residences. When they work with businesses, the systems are most often paid for in cash, says Kyle. "We have options that range from 3.99 percent for 25 years, down to 10 years," he says. "We try to find a program that they feel comfortable with and even lets them re-amortize their loan, once they get their tax credit back to lower their monthly payments."
The dealmakers
As it turns out, a lot goes into customizing energy procurement options for a homeowner. U.S. Energy Solutions of GA's sales representatives design a system based on the customer's wants, needs, and budgets. However, a definitive process is in place to help this go smoothly.
"We have programs that show us how much sun a customer's roof gets and if the panels would perform at peak level," Kyle says. "We review the customer's past electric bills and try to come as close as possible to the sizing that home needs."
Most any company you ask will tell you that what separates them from their competitors is customer service. While this is absolutely true for U.S. Energy Solutions of GA, the company's focus is on quality, rather than quantity, and as a local provider, the company is proud to serve Cobb County.
"This is, hands down, why we are different from the rest," Kyle says. "We grew our entire company by referrals. Without doing quality work, that doesn't happen. And when mishaps do happen, we rectify them immediately. We personally design a system that will fit each customer's needs."
How it works
U.S. Energy Solutions are energy saver experts, creating comprehensive solar packages to help a resident's home energy consumption. Since the sun provides free energy every day, it's a logical way to harness energy for one's home. Solar panels are roof-mounted to the home. Specially designed aluminum racks attach the solar panel array to the roof. The solar panel array then converts sunshine into electricity.
A monitor allows the homeowner to see how much energy the system is making, via a web-based component. A utility grid is installed on the side of the home, and with net metering, unused energy goes to the grid. This spins the meter backward. An inverter converts DC power from the solar panel array into the AC power used for the home. Ground mounting also is an option. Solar panels can be mounted on the ground as well.
The savings can be significant, since so much energy is used in a home — probably more than most homeowners realize. Energy is used for cooking, lighting, refrigerators and freezers, other appliances, stand-by power, heating and cooling (a larger portion) and water heating (also a large portion).
Homeowners also can take advantage of a 26-percent Federal Tax Credit, and financing is available. U.S. Energy Solutions of GA is an approved contractor for Cobb EMC, an accredited business of the Better Business Bureau, and a member of the Cobb Chamber of Commerce.
U.S. Energy Solutions has installed many systems in Cobb County already. But the company works across the state. "We are personally Cobb EMC customers, and when we put solar on our home, our power bill most months is just $37, which is the connection fee," Kyle says. "In the heat of the summer, it can be around $65 to $70, but we have significantly reduced our energy needs on the power company."
U.S. Energy Solutions also can connect the homeowner with Icynene Spray Foam Insulation. The impact of insulation can be a savings of up to 50 percent over the lifetime of the home. Spray foam is a cost-effective investment that is breathable, eliminating condensation; energy efficient, since the boiler room doesn't work overtime to keep the home at a comfortable temperature; and a provider of extensive health benefits, since the home is protected against allergens and airborne pollutants.
As Alisha says, U.S. Energy Solutions is your one-stop source for energy savings and is eager to meet with any interested homeowner to provide more education and information. Saved energy is the best energy.