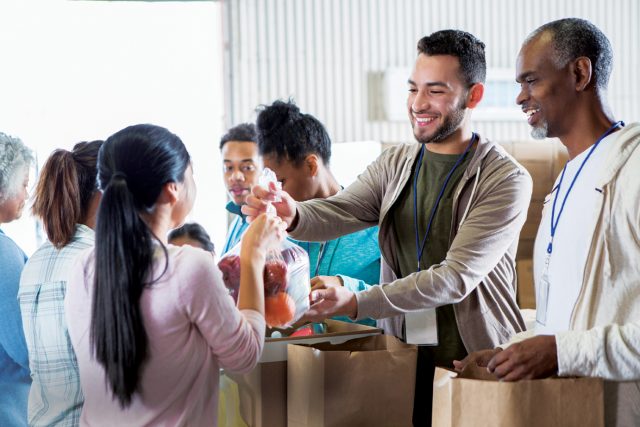 Community service is in bank's DNA
By Cory Sekine-Pettite
Fifty years of community service is something for which any individual, organization or corporation should be proud. Such a dedicated achievement should be recognized and celebrated community-wide. Thus, when this publication learned that Ameris Bank is celebrating its 50th anniversary, we jumped at the chance to inform you about all the good this company does in your community.
But first, a little history. Ameris Bank was founded by Eugene M. Vereen, Jr., in Moultrie, Georgia in 1971. He and other board members set out to create a customer-centered company that doesn't rely on tired banking norms or cookie-cutter solutions. Rather, they set the foundation for a bank that looks beyond tradition to create solid, innovative solutions. A half-century later, Ameris Bank leaders and employees continue to build on this legacy by providing advanced products and services led by an industrious spirit — all with the purpose of improving the lives of its customers and enriching their communities.
The company has spent the last 15 years growing in part by acquisitions of regional and community banks. Three years ago, Ameris purchased Hamilton State Bank, which at the time was the bank's largest purchase. In 2019, Ameris purchased Fidelity Bank. These two procurements brought the bank into Cobb County. "The Fidelity purchase was and still remains our largest purchase," said Ameris Bank VP, Branch Manager Michael Jensen. "Most of Ameris' current branches in Cobb County were previously owned by either Hamilton State Bank or Fidelity. Ameris is relatively newer to Cobb County but after the Fidelity purchase, Ameris now owns the naming rights to the Ameris Bank Amphitheatre, as well."
Ameris Bank operates more than 200 locations in the Southeast and manages deposits in excess of $22 billion. Outside of Georgia, the company has full-service locations in Alabama, Florida and South Carolina. For its 50th anniversary, each branch has been celebrating differently," Jensen said. "Whatever is the best way to celebrate and what looks best to their local customer base is what we will be doing. We have several events lined up," he explained.
Community Service is a Core Service
Ameris Bank is now the largest community bank in Georgia. By definition, a community bank only lends/extends credit to the areas in which their branches are located. Therefore, Jensen said, it is imperative for Ameris Bank and its employees to be fully involved with its communities. "Engaging in our community is what makes us the strongest and largest community bank in Georgia," he said. "Ameris Bank teammates volunteer and are encouraged to contribute to their surrounding communities in order to better understand their challenges and wins at the local level."
Jensen, who also is the current president of the Northeast Cobb Business Association, added that the secret to the company's growth is customer service. "We are here for our customers, providing all their financial and banking needs. This promotes growth and mutual prosperity with our customers and Ameris," he said. That service also extends outward into the counties and neighborhoods Ameris serves. The bank isn't there just to provide loans and other economic services. At its core culture, Ameris separates itself from the competition in multiple ways. Below are just a few examples:
 Ameris Bank's service delivery is a paramount difference between it and the competition.
 Ameris operates on the principle that relationships and people build banks.
 Community service is in the bank's DNA.
 Ameris Bank's purpose is to provide financial peace of mind to their communities, one customer at a time.
To help and give back to local communities, Ameris Bank launched a food drive program in 2010 called Helping Fight Hunger. To date, more than nine million food items have been collected and more than $900,000 donated to support food banks throughout the communities Ameris Bank serves. "Each year, our donation and collection efforts continue to exceed expectations," Jensen said.
This company-wide project unites all banking locations, support departments, community boards and customers to one common cause: to collect as many non-perishable food items as possible during the month of October. A food bank in every community with an Ameris Bank location receives a donation of goods collected at the local Ameris Bank office. In 2020, more than 125 food banks throughout 104 communities in the Southeast benefited from the 11th annual Helping Fight Hunger initiative. "Hunger and food insecurities are serious problems affecting millions of Americans each year, and these issues have been heightened by COVID-19," Jensen said.
There's no shortage of community projects in Cobb to which you can find Ameris Bank's support and its employees rolling up their sleeves to help. Here are a few examples, but you can find more on the company's website at amerisbank.com: The Paycheck Protection Program loans that were part of the CARES Act was a successful campaign that Ameris Bank participated in to the tune of more than $1.5 billion in qualified loans extended to its customers, Jensen noted. That excess of $1.5 billion in federally-funded loans was in many cases the difference between small, local businesses surviving or closing during the COVID-19 pandemic. The bank made an intentional outreach to more than 400,000 minority and woman-owned businesses. Ameris also assisted and worked directly with the Cobb County Chamber facilitating $50 million in CARES Act loans that went exclusively to Cobb-based companies.
In addition to corporate initiatives, Ameris Bank branches sponsor local causes that resonate with their communities. Local Cobb branches sponsor the Cobb County Bar Association's monthly luncheons and annual events, which include the Law Day Golf Tournament and Sleighbells on the Square 5K. The dollars raised from these events support the association's Community Service Fund, which helps families in need with rent, food, utilities and more. The bank also sponsors the annual Alexis Grubbs Memorial Golf Tournament, which is a scholarship fundraiser for a graduating senior at Marietta High School.
Further, the Cobb branches support the annual 5K9 Dog Run that funds a service animal for those in need. Another event is the Veterans Memorial 5K that is put on by American Legion Horace Orr Post 29. Ameris sponsors this race each year and the money raised supports local veterans in Cobb. Further, Ameris Bank was a Gold Level Sponsor for the 25th Annual 5K Run For The Kids hosted by the Vinings Cumberland Rotary Club. The race was held on August 14 of this year and raised $120,000 for local kids' charities.
"It is imperative for Ameris Bank and its teammates to be fully engaged with our communities," Jensen concluded. "We take on these efforts not only to promote our brand, but most importantly, to understand and relate to our current and potential customers."