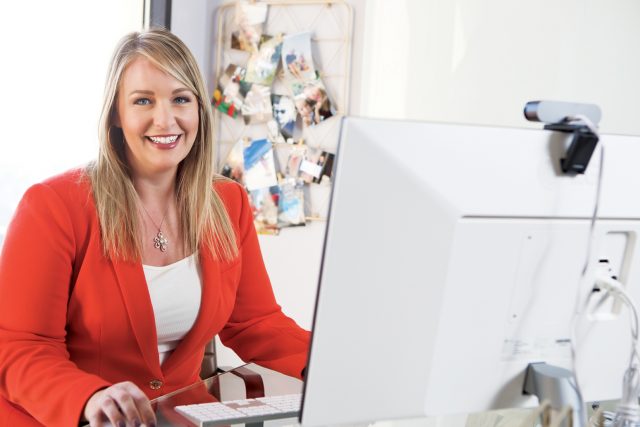 Amanda Lucey's strategy for success comes down to staying hungry, being humble, and always hustling.
By Jennifer Morrell
Amanda Lucey is no stranger to hard work and dedication, or seeing those efforts pay off. As CEO of The Partnership Atlanta, Lucey has overseen the busy, bustling, full-service marketing and public relations agency — with clients ranging from the smallest startups and small businesses to Coca-Cola and MARTA — since 2018. But her start came in 2012 at her own kitchen table, when she created M3 Effect, which doubled its growth consistently for five years.
Lucey grew from a consultancy to hiring eight employees, with no funding or financing — just grit, she says. "After merging two teams and two offices, I built out an office overlooking the Braves stadium at The Battery," she says. "I believe in staying hungry, hustling, and being humble — the three H's. While I'm proud of the 42-year legacy I've acquired, the kitchen table reminds me that the three H's are vital to success."
Progress through passion
What sort of person stands out in the world of communications, particularly in the digital landscape? Lucey is known as a communications professional who inspires others, whether she's working in crisis management, facilitating focus groups or workshops, serving as a subject matter expert, or coaching C-level executives in media relations. She brings with her remarkable skillset and energy, enthusiasm, and excellence for storytelling that is contagious.
Lucey drives The Partnership by adhering to three pillars of connectivity: agency, partner, and community. She realizes the importance of synergies in brand communication and storytelling in order to create meaningful belonging that transcends issues, crises, and sales.
Lucey says her foundation is built on the concept of purpose: Every life has a purpose, and to fulfill your calling is to lean in to your natural skills and soar. She finds purpose in her partners' work, and excels in identifying meaning in all of her marketing and communications work, whether it's healthcare or agriculture.
As Atlanta's oldest privately held agency, The Partnership and has been recognized for excellence by numerous organizations, including the American Advertising Federation's Addys Awards, the Clio Awards, Communication Arts, EFFIE Worldwide (effectiveness in marketing awards), and U.S. Film Festival. Currently, the company employs 20 full-time, part-time, and contracted staff. Its motto (and trademarked tagline) is simple: Partnership over Presentation. Lucey values partnerships and community, believing whole-heartedly in problem-solving and being a solid resource for her partners. What fuels her passion is living her work every day, from life as a mom to keynote speaking. Lucey subscribes to a concept known as The Art of Belonging®. The modern desire to belong that has evolved in today's digitally connected world which has led to companies' needs for a true sense of brand belonging.
With extensive marketing experience, including consulting roles with the Georgia Department of Labor and DeKalb Economic Development Authority, Lucey has worked on several political campaigns and served as the marketing chair for various non-profit organizations. Her background includes service as the director of communications and public relations for the Southeast United Dairy Industry Association, and executive roles with both the United States and United Kingdom governments. All of this experience (and more) has allowed Lucey to soar at the helm of The Partnership.
What matters

Lucey and The Partnership have focused efforts on several areas that, together, build meaningful communication. Branding and creating a strong brand identity are key to creating a belonging. The agency also offers web design and development, a creative team to help craft messaging, and digital services to include support, strategy, and planning.
Other services from The Partnership are paid media placement that incorporates research and appropriate messaging, and modern-day public relations with analyzation for impact. The Partnership typically has between 20 and 25 partners of all sizes on its roster at any given time throughout the year. "At The Partnership, we believe the work we create should make a positive impact on the world we live in," Lucey says. "A focus on health and wellness, sustainability, active lifestyle, real estate, and economic development helps us do just that."
Pivotal point
Nothing has tested the strength and adaptability of America's businesses as much as the onset of COVID-19 in 2020. Some companies didn't survive, but many did, including The Partnership. "The pandemic has certainly tested our ability to communicate," Lucey says. "It has brought innovation. It has brought communities closer together. We've seen businesses pivot like never before. Small businesses are the backbone of our nation, and their ability to pause, pivot, and plan is remarkable."
Lucey applauds an ability to face adversity and continue to innovate, work hard and not give up, which was the only way to go for most businesses. "I've seen business owners work harder than they ever have — with a smile on their face — and working together to be stronger on the other side. This has taught me that challenges will come, but we will always conquer them because of our perspective and positivity. Keep pushing, and eventually you'll get to your destination."
Lucey believes that a crisis situation presents the opportunity to listen, ask questions, and act immediately. Pause, pivot, and plan. She also took the time to find out how the pandemic was impacting her partners' businesses and made recommendations as a strategic partner developing crisis communications. "We changed our statements of work with many of our partners, and we paused on advertising efforts, trade show marketing, and digital marketing efforts in many cases," she said. "We developed new plans and quickly developed messaging for our partners."
A perfect example of this was the Department of Agriculture's "Milk on My Mind" initiative. The Partnership heard from the dairy farmers of Georgia and the Georgia Department of Agriculture that milk dumping was becoming a big challenge and public relations problem. "We quickly worked with partners like Dairy Farmers of America and Kroger to get milk donated instead of dumped," she says. "We went to Augusta, Savannah, Atlanta, and Macon to donate over 24,000 half-gallons of milk to first responders and frontline healthcare workers. That entire campaign was pulled together in a few short weeks, and implemented and executed during a pandemic.
"I was so proud of my team for pulling together, problem-solving, and executing — remotely, I might add — while our office was closed and during a stressful time for so many," Lucey continued. "It was an example of true partnership and our values."
Within the business world, the main theme that resulted from the onset of the pandemic was to pivot. As The Partnership adapted in the face of the pandemic, Lucey encouraged her team to consider the power of pause. "We should pause before we pivot, pause before we respond, and pause before we act," she says. "Whether it's conference calls, phone calls, or Zoom, I stressed the importance of giving our colleagues a chance to communicate. Pause, and then respond. The goal was to make sure we were listening to each other. With so many distractions and the disadvantage of not being physically together, it's even more important we feel heard."
As a team, The Partnership learned the significance of staying patient and being proactive during such a challenging time. As a result, Lucey said she and her staff grew as an agency.
Educating the public
The Partnership educated all of its partners on the stages of COVID-19. In the case with the dairy industry, Lucey and her team created information graphics and educational videos to help consumers understand the supply chain challenges and why milk was being dumped. An overall education about reacting to the pandemic was at hand as well. "We worked in healthcare to explain why physical distancing and wearing a mask was so critical," she said. "We developed campaigns about wearing a mask. We worked with small businesses to help navigate the Paycheck Protection Program (PPP) and how to solve the changing landscape of digital. It's been an honor to work with so many leaders to help them navigate these challenging times, and to help them evolve their brand at the same time."
The methods, frequency, and message of communications had to be adjusted for many businesses, and The Partnership helped companies to do that successfully. Lucey's goal was to lead with empathy at all times, and to help businesses understand that messaging planned in 2019 for the year 2020 might have no longer been appropriate.
As of late, The Partnership has developed communications with their healthcare partners around the COVID-19 vaccine. "It's an important message to share that getting vaccinated not only protects yourself, but your community as well," says Lucey.
Meanwhile, The Partnership is in growth mode, and Lucey wants to continue that growth. "The future is about evolving and adapting," she says. "The world is getting smaller, and we will see increased challenges from a business perspective. It is important to evolve and adapt as we grow in the Atlanta market."